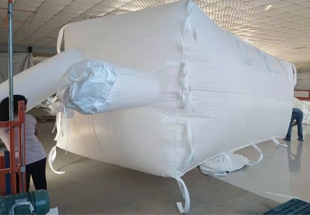 In order to better serve and guide customers, we send on-site pavement service personnel to Dry bulk liner using the end of the Carbon Black Factory, conduct
Dry bulk liner of white Carbon Black (SiO2) products for bulk transport packaging of loading and unloading cargo guidance services, and track the record of our patented product PE film container bags/bulk bags in low density, very light powder products in the field of use.
Combined with the current loading and unloading requirements of carbon black and the customer's terminal, we have carried out practical professional design to meet the customer's use
Requirements.In the process of unloading, we also give key guidance, such as container elevation operation, flow control, airflow system use.
The successful completion of the customer in the Carbon Black Dry bulk liner products to achieve a non-polluting silo to silo closed transport storage mode.
We can provide customers with a complete package of logistics and transportation solutions! Large bulk packaging service for the world!